She has been singing and playing Cornish Folk songs as "Sue White" since moving to Cornwall in 1979. She has played in clubs, concerts, folk festivals, in UK and abroad as well as on local and national radio.
Sue loves all things Cornish, and Cornwall is her favourite place. When she lived in North Cornwall from 1979 to 1996 she regularly played all over the county, in hotels, pubs, art centres, medieaval banquets, beer festivals and many chapel suppers! She also had her two beautiful children there, and had quite simply the best years of her life in Cornwall and with its people.
Sue is still frequently requested and played on BBC Radio Cornwall to this day.
The White Rose
Sue's version of "The White Rose" is on both her Cornish CDs. It was, she has been told by his widow, one of Rick Rescorla's favourite versions of a favourite song, and he played it whilst singing and dancing around the room with his young daughter in his arms. Sue is very touched to know this.
Sue has made 2 solo CDs of Cornish Folksongs, recorded & produced in Cornwall - "Best of Cornish Folksongs, Vols 1 & 2 " & "Padstow Mayday & Other Cornish Folksongs" both available from the links at the bottom of the page.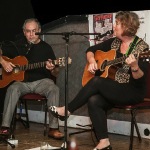 Sue King and Peter Fung as "Misty Roses Duo" - from Ballads to Bossa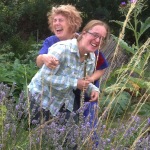 Sue with Kate Thomson as "Bedlam Bess"- from Celtic to Classical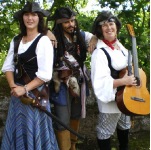 Sue with Jonty Depp & Cutlass Kate as "The Planks" - Piratical Songs, Arghh!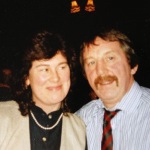 Sue with husband George Hill (a vintage photo!) as "Both Sides the Tweed" - Scottish & Irish Folk.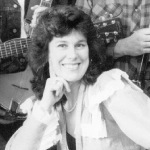 Sue as Sue White with her trio The Goonhillies - Celtic Music & Blue Grass
"Sue White" also performs with Tony Taylor as "Waterloo Sunset" - a mixture of Cornish, Celtic Rock & Originals, plus good old 60s covers! Waterloo Sunset Duo. They are available for weddings and parties, concerts and clubs. Their CD Lily of The West is available directly from Tony or Sue.
"Padstow Mayday" CD is also available on iTunes, but this is a Pirate Copy that was stolen from Sue by an Italian named Valerio Meletti, so please don't purchase it from iTunes, as Sue receives nothing from these sales!